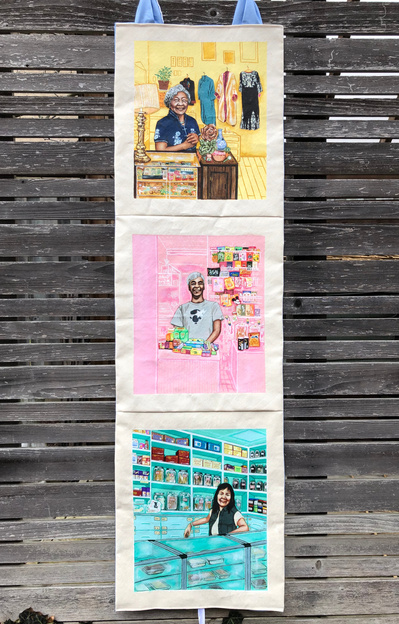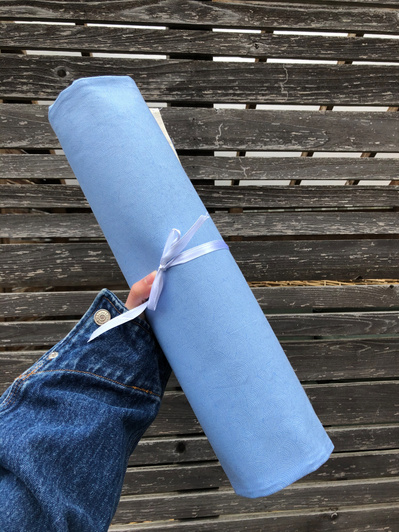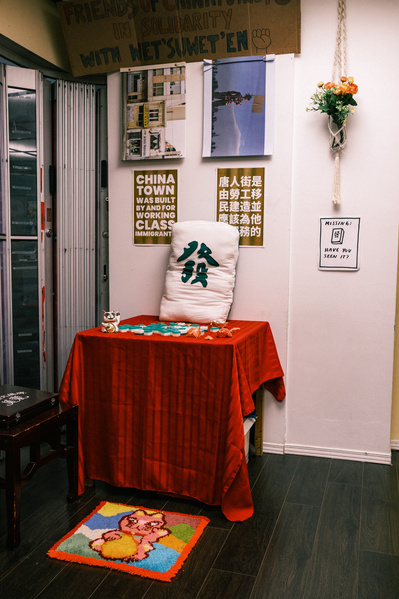 Installed at Back in 5: A Closing Exhibition at Tea Base, 2020. Group show with Florence Yee and Arezu Salamzadeh.

Photos by Steven Chen.
"The hanging-scroll/hand-scroll like nature of my artwork allows it to easily pass hands, rather than allowing my art to be tied up, or tied down. I want my work to be able to travel, to migrate through our communities and our families. I want my work to be rolled and unrolled, to experience and carry the echo of human touch. I want the viewing of my work to be a social interaction, an experience among friends. I'd like to return our art to our communities, and to emphasize art which is both made by and made for our communities. This practice, ideally, would eliminate both the hold of the institution as well as the materialistic view of art ownership and the elitism at the centre of an art world built on colonial-capitalism." Excerpt from OCAD U Thesis Paper (2019).
"Engaging with the many complex nuances of diasporic identities and cultural heritage, my work is a celebration of our communities, relationships, humanity, and joy. I've chosen to represent members within my community space, capturing casual moments in a playful and colourful format. Capturing these moments and these individuals feels to me like an act of care, a way to documents the energy of a complex ecosystem of communities within a space that may soon look very different.
While an artist's trauma and history is entirely their own to express, often the institution places racialized artists in the position of constantly re-enacting that trauma as the only way in which to be considered "serious artists." I refuse to perform or display racialized pain for the benefit of the institution.
Ultimately, I am always attempting to understand my own intersections of identity, my privileges, and how I take up and move within White space and Diaspora space." OCAD U Thesis Statement (2019).
"... I was at the same time discovering both the value and the precarity of our communities. And this became the answer to the questions I had posed myself after reading Shraya's article[1]. If I refused to make art about the pain and unjust suffering of my communities, I would make it about our joys, our energy, and our relationships, as precarious as they may be. Emphasizing community, emphasizing humanity, would also work to undercut the stereotypes surrounding Asian Canadians/Americans, which often frame us to be technologically advanced yet emotionally and intellectually anachronistic.[2] At a time when many racialized communities are threatened and targeted for dispersal by the isolating forces of gentrification, the act of painting the people and the spaces we so value became an act of care and an attempt at documentation, perhaps even preservation. Although I didn't realize it at the time, I've come to understand that this project was born out of a reaction. A desperate yet delicate grasp towards tenuous links." Excerpt from OCAD U Thesis Paper (2019).
---
[1] Vivek Shraya, "How did the Suffering of Marginalized Artists become so Marketable?" Nowtoronto, 1 May 2019. https://nowtoronto.com/culture/art-and- design/vivek-shraya-trauma-clown/.
[2] Techno Orientalism: Imagining Asia in Speculative Fiction, History, and Media, ed.Davis S. Roh, Greta A. Niu, and , and Betsy Huang (New Jersey: Rutgers University Press, 2015).